Juggling several projects at once can leave your brain in a spin if you don't organise and prep yourself effectively.  Finding a good organisation tool can make your workday a lot less stressful and also helps you relax outside of work knowing you have everything in order.
Delivering projects quickly and efficiently ensures a professional service, instils trust and keeps clients coming back time and time again.
In the past we've tried lots of things to keep track of our projects, whiteboards, pinboards, scrap bits of paper floating about on our desks and spreadsheets.  Each of those has it's limitations so thankfully we've moved on and for the last three years we've used Trello to manage and track our projects.
Trello is a collaborative online tool that has a range of easy methods to organise tasks and teams.  It is our virtual whiteboard.
Art imitates life
To keep our process familiar and repeatable, we have project template that may get tweaked slightly to suit the individual requirements of each project.
We replicate the main stages of our projects into lists, then within those lists, we create cards for individual tasks, and assign those to people in our team.  You can also add bright, customisable labels which helps you to see in a single glance what needs attention and what's been done.  And showing what smart cookies they are at Trello, the labels have optional patterns which make them more distinctive to people with a colour vision deficiency.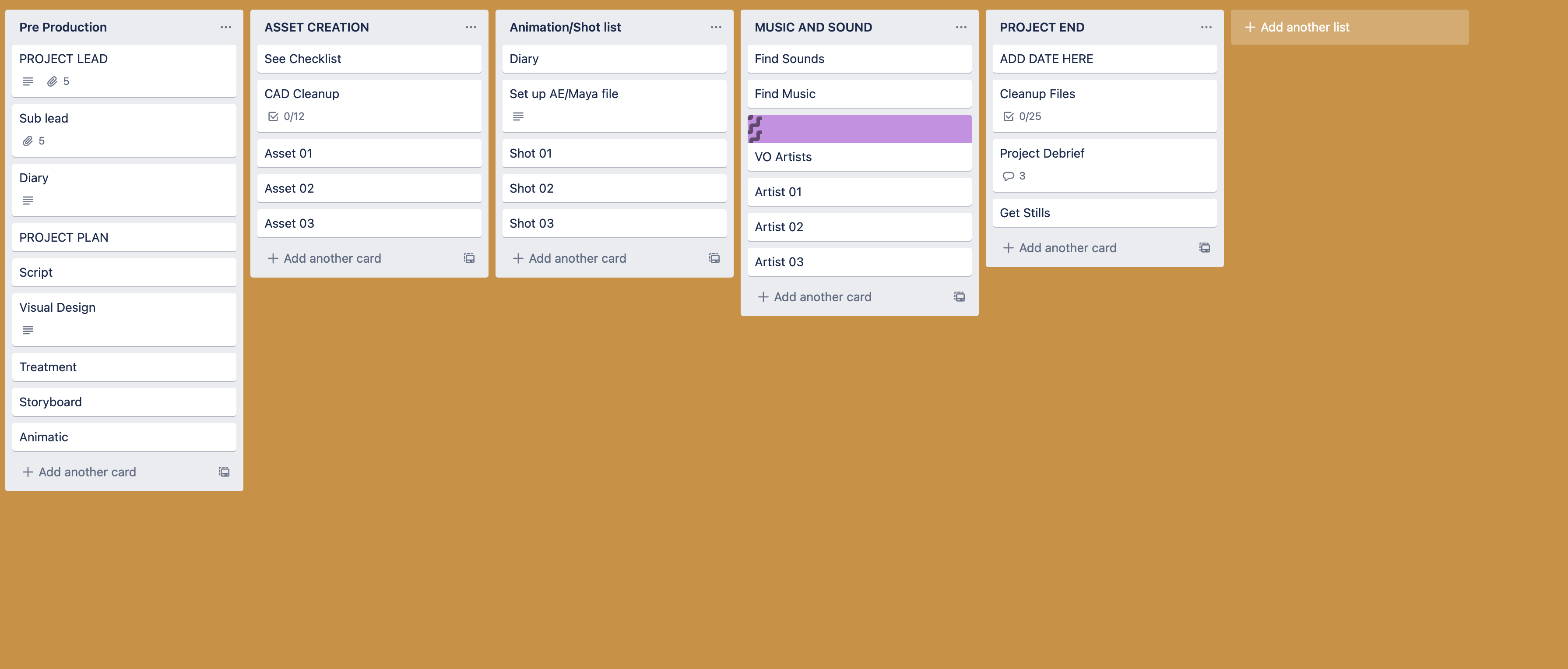 One for all and all for one!
The projects we work on sometimes involve the whole team, or sometimes can be done by just one person.  Even though there's not likely to be a lot of communication between other team members on that particular job, we still set up and use a Trello board to keep things running smoothly.  This pays dividends when something unexpected happens, like someone falls ill, or perhaps something occurs where the project needs an earlier delivery date and we need to bring more people in on the job.
If someone else needs to pick up the project, they need to know where everything stands so they can continue the work without spending valuable time working out what's been done and what needs looking at next.
Also, as experienced animators we're used to having more than one project at once, so having each project visibly planned out, there's no stress in coordinating everything effectively.
Dear Diary…
On all of our Trello boards, we have a card set up as a diary.  We use that to give an overview of progress, such as what has been sent to the client, when it was sent, and how many rounds of amends each stage has gone through.  If another team member needs to pick up a project, they will be able to tell instantly what stage of the process the project is at and continue its progress easily.
Yes Comment
As a distributed team with a flexible working week, it's vital to keep everyone informed so we leave regular comments which get sent automatically to people's email inboxes, making sure they don't miss a thing.
Shot by Shot
Supporting the Diary, each stage of the project has its own card, giving room to make specific notes and instructions.  That keeps things clear and so comments and feedback don't get mixed in with other parts of the project.  It also means that if someone jumps in to help, they then can go directly to the part of the process they need to attend to and see exactly what needs to be done.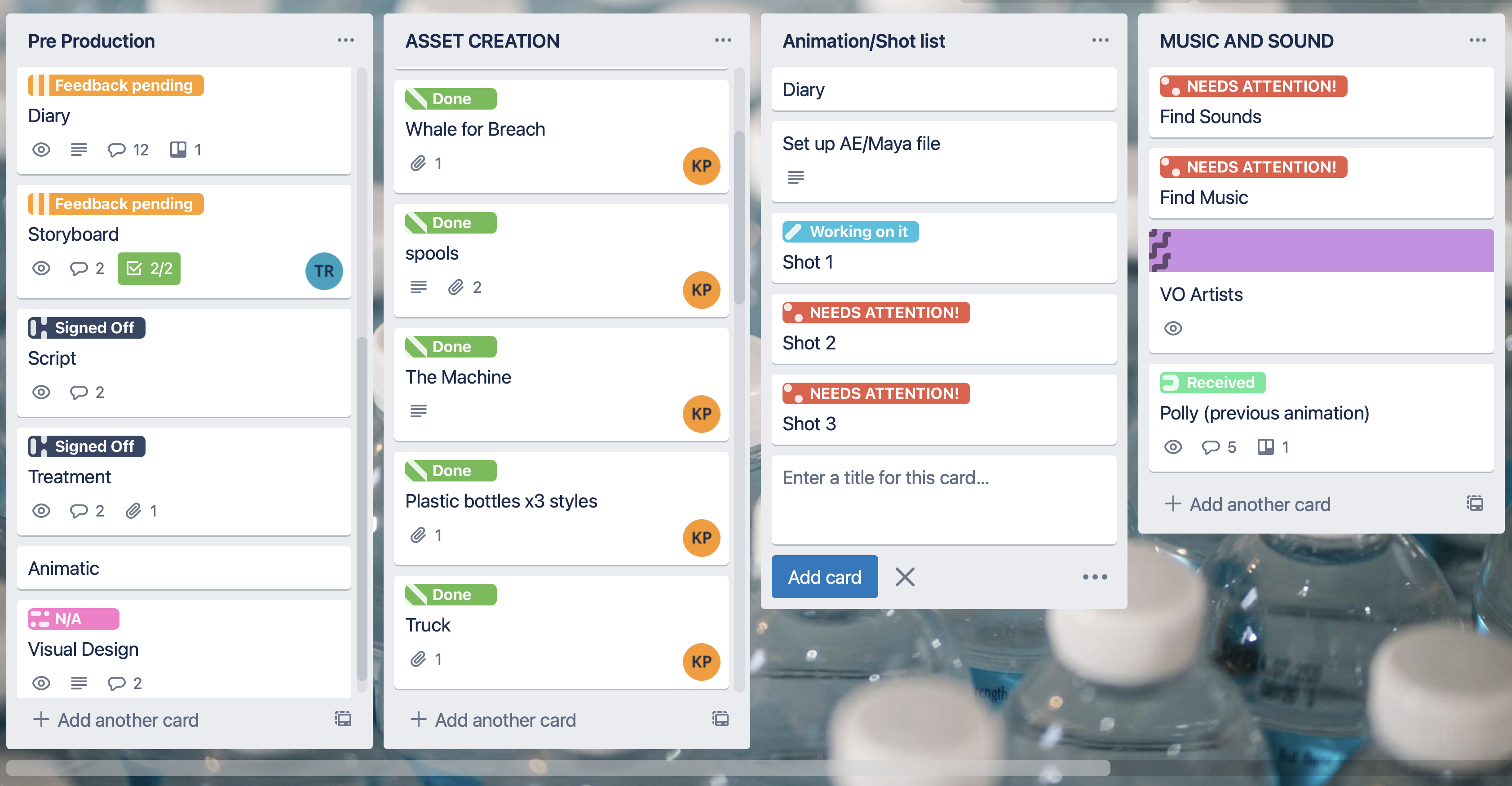 Share and Share, I like!
The fact that Trello is online makes it very easy to bring in external freelancers in, and with Trello's very intuitive interface, it needs very little explaining.  It saves building a separate document or email to give instructions when you can simple invite them to a board, then add their name to a tasks that you need them to work on.
All in all, Trello has streamlined our project management and made it much easier to keep everything on track, and ultimately ensuring we deliver the best quality animation possible.  Trello's easy-to-follow interface is great for visual thinkers, and while it may lack some of the advanced features of other project management tools, it's a great fit for us and over 50 million other users!