This article gives a quick breakdown of the key differences between these three types of supplier to help you figure out who you should approach when you're looking for creative support.
Before doing the research for this article if I'd have asked myself what the difference is between an agency, a studio and a freelancer, I would have said that agencies are larger and they charge more, a freelancer is just one person and probably charges less, and a studio sits in the middle.
After investigating established definitions, reading 10 blog articles on the subject, researching pricing structures and reflecting on Distant Future's experience of working with all three, my initial answer seems mostly correct, but there is one other essential distinction between them.
The thing I'd overlooked is the scope of work each one can do.
Here's a quick overview of each one that should help determine what kind of supplier is most suitable in any given situation.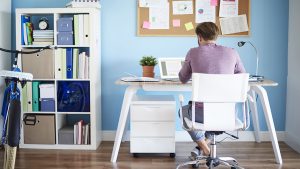 A freelancer is one person who may be really good in one area with some complimentary skills that feed into the core work they do.  For example if they focus on illustration, they may also have some animation skills.
If you have a project that requires something outside their focussed set of skills, you probably need to find another freelancer to work on other parts of the project.
Using animation as an example, it's not too hard to find a freelancer who specialises in 3D modelling.  Ask them to do something in 2D and they may not be the best person to help.
For projects of a certain size, a freelancer should be able to work as fast as a studio or agency.  Once projects get past a certain size though, it's going to take them longer to do as they only have one pair of hands.
If they are busy you will need to find someone else, and if they fall ill mid-project, the delivery deadline is likely to get delayed.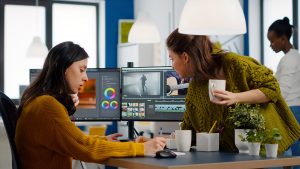 Studios are made up of 2 or more people with complimentary skills, meaning that as a supplier they have a number of specialists who can bring different approaches to a project.
Using ourselves as the example, Tom is brilliant at 3D work, Hugh does fantastic character animation in 2D and 3D, and Lauren produces awesome motion graphics.  As with a freelancer, each of them have complimentary skills and there's a lot of crossover which means they can share tasks, working as a team on the same animation at the same time to complete projects of any size quickly and efficiently.
Also, if one of them is on holiday or ill, work continues and delivery deadlines can still be met.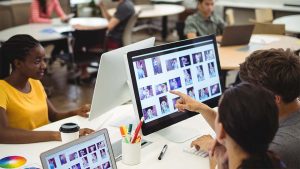 Agencies are set up to deliver projects with a much wider scope that would otherwise require multiple studios or freelancers to complete.
They vary in size – browse the Meet The Team page on an agency's website and you can expect to see 20 or more people plus one or more studio dogs!
If you have a brand you want to launch and want a single supplier that can design everything, build websites, plan and deliver marketing activities with potentially global reach as well as monitor the performance of everything, then an agency is probably the way to go.
Being the size that they are, you can expect the same project continuity you'd get from a studio as there should be people who can work on things if other team members are busy or unavailable.
As well as differentiating by scope of project and availability, pricing is a real consideration when selecting who you might want to work with….
Freelancers
From our experience, freelancers are most likely to charge by the hour or by the day rather than for a fixed project price.  Rates vary depending on experience but to give you a starting point, the Broadcasting Entertainment Communications and Theatre Union, also known as Bectu, suggest a target day rate of £290 for someone with between three and seven years experience, with a 30% boost if the job is one week or less (which equals £377 per day), and a 15% boost on a job of one month or less (totalling £333.50 per day).  You can see the full cost breakdown here.
Studios
Looking at studios who put animation prices on their website, they tend to talk about fixed, per-project pricing.  That's the way Distant Future works as well, so our clients know what they'll be paying before the project starts.
When agencies outsource work to us, we've found that some prefer a per-day structure so we do charge that way if it makes things easier or more transparent for them.  At the time of writing our rates are £350 per day, which means our clients can enjoy the benefits of working with a studio for the same kind of prices they'd pay an established freelancer.
Agencies
In this article from March last year (https://www.adzooma.com/blog/average-cost-uk-marketing-agencies/), the author looked at average rates for marketing agencies in the UK, and found that average costs vary depending on the service you're after, ranging between £394.75 and £725 per day.
Unfortunately, animation isn't one of the services that's specifically listed in the article so it's hard to get a direct comparison, but it's likely to come under Content Marketing which the article describes as 'producing new, high-quality content' and carries an average cost of £725 per day.
In case you were interested, here are the average day-rates for each of the other listed services:
SEO – £394.75 per day
organic social media – £650 per day
paid social media – £430 per day
pay per click – £725 per day
marketing strategy – £684.28 per day
After reading this you will hopefully have a good idea which type of supplier is best for you, your company or the project you're working on.
If you're undertaking a large-scale campaign or brand launch, look at agencies.  They may cost more but they'll be able to deliver on a scale that a freelancer and most studios will not.
If you're after someone to do a more focussed task, such as produce animated content for social media, look for a freelancer or studio.  You'll get an idea if they can do the work you're looking for with a quick look at their website.
I'm undoubtedly biased, but if you find a studio and a freelancer that both look good, it's worth considering studios first as costs can be similar, a studio is likely to have more creative skills in-house, and as they are made up of more than one person, a studio will be able to ensure the project can be done in a limited time frame, even if someone falls ill or goes on holiday.
If you have found this blog helpful and would like to receive further hints, tips and information, sign up for our quarterly newsletter below.
References and image attribution
Freelancer photo created by gpointstudio – www.freepik.com
Studio photo created by DCStudio – www.freepik.com
Agency photo created by peoplecreations – www.freepik.com