At Distant Future we constantly look for new tools and tricks to improve our work, increase efficiency and make our process better for everyone we work with.  A couple of years back we started to use Vimeo's Review Tools feature and it has streamlined communication and had a direct impact on the speed and quality of work we do.  It has also made it far easier for our clients to tell us what amends and tweaks they want to do.
So, as it's been part of our pipeline for nearly two years, we thought it was about time we told you more about it…
At one time sending feedback and amend requests to an animator used to be a time-consuming, admin-heavy task that required a good level of organisation to make sure it was effective.  Without thought and pre-planning, all sorts of issues could easily arise.
Had everybody in your company who needed to review done so? 
Had you collated all the comments before sending them back to the animators? 
Had you accurately recorded the time stamp to show the animation studio where the changes needed to be made? 
What the hell is a 'time stamp anyway'? 
How many emails or phone calls had been made between you and the animator to clarify a point? 
Since we introduced the Video Review Tool in Vimeo, the whole process has been a breeze.
It's as simple as clicking on the animation and typing what you think.  You can get other people in your company to do the same thing in their own time and all the notes are there for everyone to see, ending the days of long chains of emails with conflicting comments that need to be sorted through and analysed.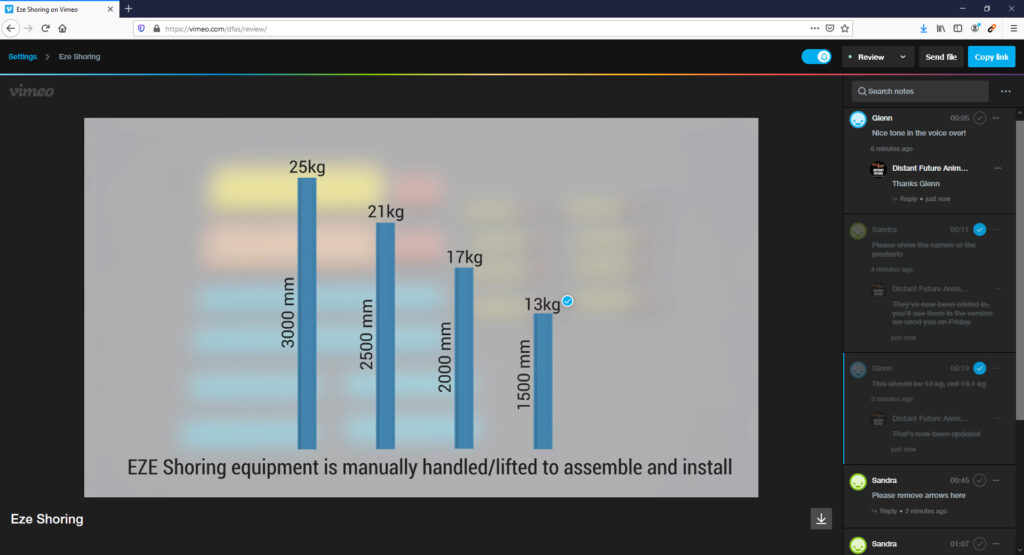 Meanwhile, back at Distant Future, we get to see all your change requests and feedback in a tidy task list that we can work through and tick off when each bit is done.  That keeps things organised for everyone and helps you see how much progress we make each day while working on your animation.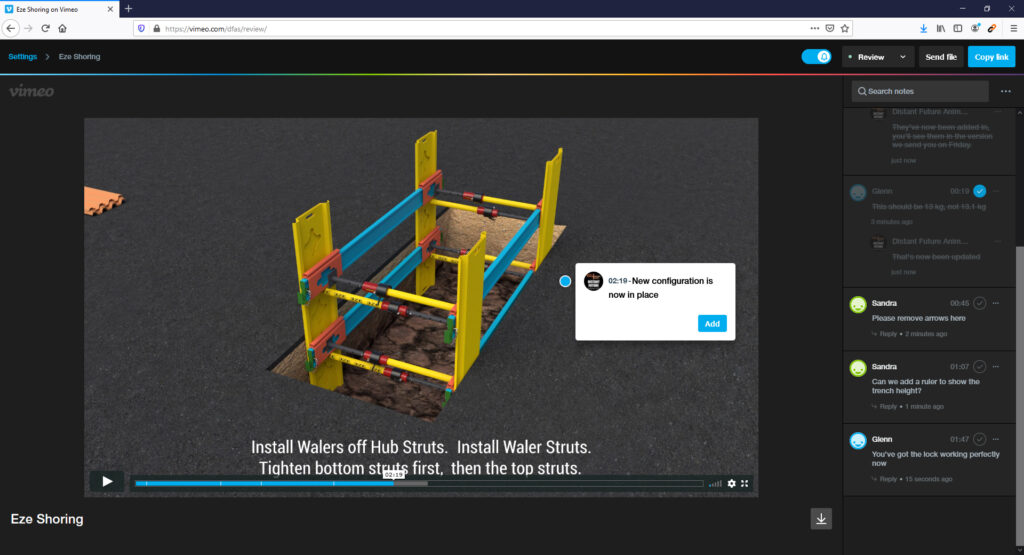 "Sometimes we're working with partner companies who want to see how an animation is coming on.  It's great to have one place that's easy to use so that everyone can leave comments and read each other's notes, no matter where they are in the world."

Glenn Wood, Managing Director, EZE-Shoring Ltd
Over the time we've been working this way, communication has been clearer, projects have been more efficient and client budgets have gone further.  It's a big win for everyone.
If you'd like a quick demo or want to ask anything more about how the animation production process work at Distant Future Animation Studio, please get in touch.